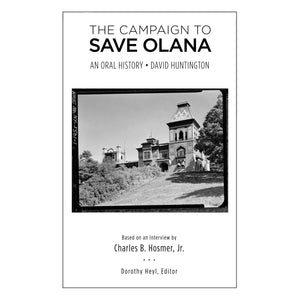 The Campaign to Save Olana
Regular price
$7.95
$0.00
Over 20 years ago, a leading champion for the preservation of historic buildings in America, Charles B. Hosmer, Jr., sat down with David C. Huntington, an art historian who helped save one of the great treasures of America's architectural past, Olana. Hosmer's interview of David Huntington was recorded and transcribed, but never edited for publication, until now. 
Frederic Edwin Church, the renowned Hudson River School artist, designed and built Olana near Hudson, New York, between 1870 and 1891. After Church's death, in 1900, the house, its studio and contents, and its surrounding property remained intact for the next 60 years. As a result of the efforts led by Huntington in the 1960's, Olana is now a New York State Historic Site, a National Historic Landmark, and one of the most popular destinations in the Hudson Valley and upstate New York. 
Take home your copy of this important interview that changed the course of Olana's history. 
 Paperback, 38 pages
---
More from this collection