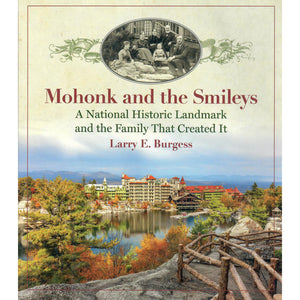 Mohonk and the Smileys
Regular price
$45.00
$0.00
Author: Larry E. Burgess
Mohonk and the Smileys: A National Historic Landmark and the Family That Created It chronicles the history and enduring legacy of a unique resort whose aim has always been to create and sustain a peaceful, contemplative environment for the betterment of human relations and for improved relations between people and the world around them. It is a story that includes the creation of the largest privately owned nature preserve in New York State, international arbitration conventions that predated the Hague Conventions, and landmark efforts to improve the plight of American Indians and African Americans—all while dealing day by day with the logistical challenges of operating a complex private enterprise successfully over the span of 150 years of rapid technological and social change.


In 1869 twin brothers Albert and Alfred Smiley purchased a rough-and-tumble ten-room inn and 280 acres of surrounding land on the shores of Lake Mohonk in the wild and isolated Shawangunk Mountains. Year by year the Smileys expanded the hotel, bought surrounding farms to feed their guests, built stables and carriage houses, a power plant and blacksmith shop, planted acres of flower gardens, and created a vast network of roads and hiking trails for guests to access the singular beauty of the Shawangunks—and all was done with the then-unusual business philosophy of careful respect for the environment. Soon the little guest house had become a grand Victorian castle seeming to rise organically from the Shawangunk ridge on which it perched.

It was the heyday of the grand hotel era in the Catskills and the "great camps" in the Adirondacks. Then, one by one nearly all of those hotels and camps either went up in flames or were abandoned, left, like the great Catskill Mountain House, to rot in the wind and rain. But not the Smiley's Lake Mohonk Mountain House. Despite two world wars, the Great Depression, the rise of automobile and airplane travel, changing demographics and cultural upheavals, steadily increasing tax burdens—events and factors that finished off most of its competitors—one hundred and fifty years later the little inn on the shores of Lake Mohonk has not only survived, but thrived and grown into a world-famous mountain resort in a spectacular setting with over 260 guest rooms, luxury amenities, and acclaimed dining—and still family-owned and operated, five generations later.


Hardcover, 222 pages
Publisher: Black Dome Press
---
More from this collection