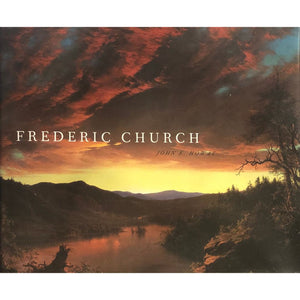 Frederic Church
Regular price
$250.00
$0.00
Out of Print, Limited Stock
Author: John Howat
The life of landscape painter Frederic Edwin Church (1826– 1900) encompassed an expansive period in United States history, when the nation's commercial, diplomatic, cultural, and scientific achievements blossomed. This lavishly illustrated book—the only comprehensive study of the artist available—describes Church's life and career and details the ways in which the artist played a part in America's development during the nineteenth century. John K. Howat, a distinguished scholar of American landscape painting, discusses the many talents of Frederic Church while also explaining the rich complexities of his major works.
One of Thomas Cole's illustrious pupils at an early age, Church became a key figure associated with  the Hudson River School. His adventurous international travels and the paintings that resulted from his expeditions brought him far-reaching attention, and his pictures often commanded record-breaking sums. Church's friendships and interests—religion, history, literature, music, architecture, agriculture, and science—as well as his skills as a crafty entrepreneur are explored. Beautiful reproductions of Church's extraordinary home Olana, which one can visit today in eastern New York, are also featured.
For admirers of the Hudson River School, American landscape painting, and the history of nineteenth-century America, Frederic Church is an invaluable book to own.
Hardcover, 224 pages
Publisher: Yale University Press
---
More from this collection