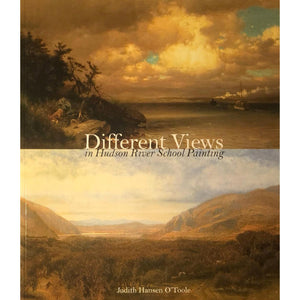 Different Views in Hudson River School Paintings
Regular price
$39.95
$0.00
Author: Judith Hanson O'Toole
Hudson River School artists shared an awe of the magnificence of nature as well as a belief that the untamed American scenery reflected the national character.

In this work, color reproductions of more than 115 paintings capture the beauty and illuminate the aesthetic and philosophical principles of the Hudson River School painters. The pieces included in this volume reflect a period (1825-1875) when American landscape painting was most thoroughly explored and formalized with personal, artistic, cultural, and national identifications. Judith Hansen O'Toole reveals the subtleties and quiet majesty of the works and discusses their shared iconography, the ways in which artists responded to one another's paintings, and how the paintings reflected nineteenth-century American cultural, intellectual, and social milieus.

Different Views is also the first major study to examine closely the Hudson River School artists' practice of creating thematically related pairs and series of paintings. O'Toole considers painters' use of this method to express different moods and philosophical concepts. She observes artists' representations of landscape and their nuanced depictions of weather, light, and season. By comparing and contrasting Hudson River School paintings, O'Toole reveals differences in meaning, emotion, and cultural connotation.

Different Views in Hudson River School Painting contains reproductions of works from a range of prominent and lesser-known artists, including Jasper Francis Cropsey, Sanford Robinson Gifford, Asher B. Durand, Frederic Edwin Church, Albert Bierstadt, John Frederic Kensett, and John William Casilear. The works come from a leading private collection and were recently exhibited at the Westmoreland Museum of American Art.
Paperback, 160 pages
Publisher: Columbia University Press
---
More from this collection