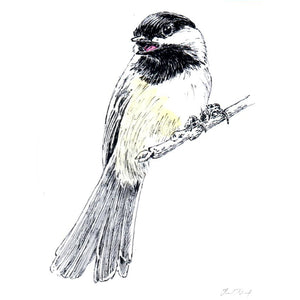 Chickadee Notecard, Pen and Ink Artwork by Paul Kmiotek
Regular price
$4.95
$0.00
This single notecard showcases a printed reproduction of original pen and ink artwork by Paul Kmiotek.
5 and 1/2" by 4 and 1/4"
Kmiotek Art Works
Award winning pen and ink artist Paul Kmiotek started drawing at a very young age, having an early love of art passed down from his father. Although Paul has drawn some cityscapes, the subjects of most of his art are naturalistic focusing on animals and landscapes which appeal to his lifelong love of nature.
Paul has recently started teaching others how to interpret their world into black lines on white paper. He has a wide range of students teaching at camps, elementary schools, and art associations.
Some of Paul's work has been placed at the Ridgewood Art Institute, the Hiram Blauvelt Art Museum, the Belle Levine Art Center, The Flywheel Gallery, and the Lake Carmel Arts Center with commissions by the Wildlife Conservation Society, Aerco International, The Komodo Dragon Species Survival Plan, and The Wildlife Care Center of Belize and more.
Paul currently lives in the Hudson Valley with his wife and two children.