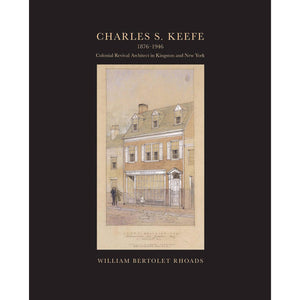 Charles S. Keefe
Regular price
$25.95
$0.00
Author: William Bertolet Rhoads
"The Colonial Revival is at the heart of American architecture."
Richard Guy Wilson (Commonwealth Professor at the University of Virginia and author of The American Renaissance, The Machine Age in America, Thomas Jefferson's Academical Village, Edith Wharton at Home, and The Colonial Revival House)
A native and lifelong resident of Kingston, New York, with offices in both Kingston and New York City, Charles S. Keefe (1876–1946) established himself in the 1920s and 1930s as a leading architect in the study and revival of old Colonial buildings, specializing in middle-class houses and outbuildings on upper-class estates. His designs received wide publication in professional journals and popular magazines, but since his death in 1946 he has fallen into obscurity. William B. Rhoads, a leading scholar of the Colonial Revival, restores Keefe to his rightful place among tradition-minded architects who were dismayed by the rise of modernism. This richly illustrated volume gives a full and colorful account of Keefe's professional and personal life.
Following training in a Kingston architectural office, Keefe entered the New York City architectural office of Paris-trained Alfred Hopkins, who served as his mentor. Departing from Hopkins in 1920 to establish his own practice, Keefe became recognized as a leading Colonial Revival architect. Author of The American House and editor of a revised edition of The Georgian Period, Keefe designed Colonial homes and estate buildings that were widely published in architectural journals and popular magazines, attracting clients from Maine to California and as distant as Ecuador and British Columbia, but with concentrations in the Kingston area, suburban New York City, and Connecticut. Forced to close his New York office during the Depression and retreat to his Kingston home, Keefe still managed to attract notable clients including Lowell Thomas and Thomas Dewey.
In the 1930s Keefe became an outspoken critic of the modern house. Proud of his Irish-American heritage and loyal to the Republican Party, Keefe stated his opinions boldly: the Colonial house was distinctly American and suited to the American way of life, in contrast to the modern house, which he vigorously condemned, associating it with the New Deal's attempt to alter the American way.
Paperback, 268 pages
Publisher: Black Dome Press
---
More from this collection