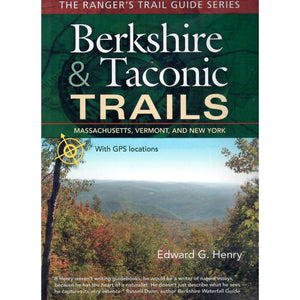 Berkshire & Taconic Trails
Regular price
$15.95
$0.00
Author: Edward G. Henry
See the Berkshires & Taconics through a forest ranger's eyes! Conservation professional Edward Henry, acclaimed author of Catskill Trails and Gunks Trails, leads the way to the best vistas and scenic sites of the Berkshire and Taconic mountains of Massachusetts, New York, Vermont & Connecticut, providing scientific interpretation along the way and insights into the region's geology, wildlife biology, botany, forest ecology, meteorology, and human history. Each hike becomes a lesson in ecology and history
New York State Conservationist Featuring Maps, Photographs, GPS Coordinates, Keys to Hikes, & Detailed Directions to:
Lenox Mountain and Yokun Seat, Saddle Ball Mountain, Mount Greylock, Spruce Mountain and Crum Hill,Spruce Hill, White Rocks and the Snow Hole, Berlin Mountain, Dorset Peak, Mount Equinox, Alander Mountain, Mount Everett and Mount Race, Monument Mountain, East Mountain, Bear Mountain, Brace and Frissell Plus 13 Shorter Hikes to Waterfalls and Overlooks: Waconnah Falls • Double Falls (and Hoosac Tunnel) • Bash Bish Falls • Tannery Brook and Parker Brook Falls • Windsor Jambs • Mount Tom • Sugarloaf • High Ledges/Massaemett Mountain Fire Tower • Chapel Falls / Chapel Ledges • Chesterfield Gorge • DAR Forest and Tower • Borden Mountain • Stissing Mountain Edward G. Henry provides a detailed portrayal of the Berkshires and other-named mountain ranges that form part and parcel of the Taconic Mountain Range. … His guide brings you not only to the place, but to the moment, and enhances one's appreciation of the land, rivers, forests and vistas that make up this remarkable place.
Paperback, 176 pages
Publisher: Black Dome Press
---
More from this collection