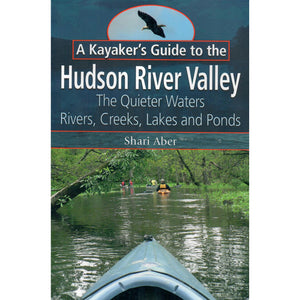 A Kayaker's Guide to the Hudson River Valley
Regular price
$17.95
$0.00
Author: Shari Aber
The vast watershed of the Hudson River Valley, a designated National Heritage Area, holds several major rivers, scores of streams and tributaries, dozens of large lakes, and hundreds of ponds. This historic region that the National Park Service calls the landscape that defined America is a quiet paradise for kayakers pursuing one of America's fastest-growing sports in one of the country's most scenic regions.
Author Shari Aber leads the reader on thirty-three guided paddles in Dutchess, Orange, Ulster, Greene, Columbia, Putnam, Westchester, & Sullivan counties through such magnificent waterways as Tivoli Bays Constitution Marsh RamsHorn-Livingston Sanctuary the Wallkill River National Wildlife Refuge the Delaware, Wallkill, Tenmile, Croton, & Neversink rivers and the Esopus, Wappinger, Otter Kill, Black, Stockport, Catskill, Bashakill, Dubois, Fishkill & Rondout creeks plus thirty-seven Hudson Valley lakes, ponds and reservoirs. Meet bald eagles, blue heron, swans, and beavers on the "quieter waters" far from the noise, the traffic, and the madding crowds.
Includes maps, photographs, tips on safety, and directories of outfitters and environmental organizations offering equipment, instructions, or guided tours.
"You didn't know there were so many fun places to explore! And Shari can show you how to do it safely. This is a wonderful book." Pete Seeger
Paperback, 224 Pages
Publisher: Black Dome Press